This is a short & sweet review of a nifty craft tool called
Chip It!
Again let me point out, there are no ads on this blog, I have no sponsors, and I only review things that interest me and that I personally try myself.
Chip It! lets you upload a photo and it automatically finds you coordinating paint chip colors. Obviously, you don't have to buy paint. Maybe you're looking for coordinating fabric, as I am doing in my first example. It's sponsored by Sherwin-Williams, hence the paint. Maybe you ARE trying to repaint your living room- upload a pic of your rug, or couch, or a throw pillow, and see what coordinates!
Here's some fun examples to show you. I'm not planning to repaint anything anytime soon, but I WAS looking for coordinating fabric ideas as I mentioned.
This is my bridal portrait. In our old house I had a wall of wedding pictures framed. I'd like to do that here and was looking for ideas for colors of frames, or maybe a painted wooden heart, or vinyl letting...not sure yet, but this does show some nice colors!
Here's
a pie I baked awhile back
! M&M Cookie Pie :)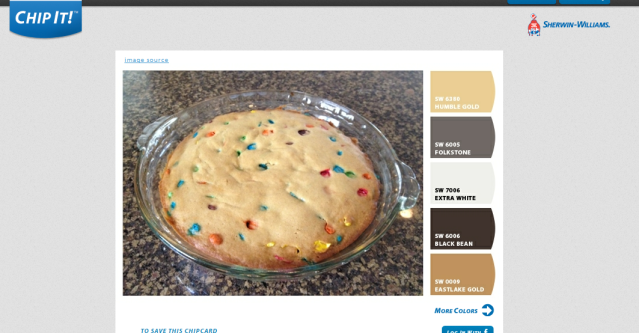 And here's a stock photo I had saved.