Kids are funny sometimes. They go through a phase of wanting paint and playdough, and now they are in a phase of just wanting to cook. Well, not cook, bake really. 5-year-old's favorite thing to do is "add the secret ingredients" so slice and bake cookies don't really cut it here! Cookies are ALWAYS a hit, but I only have one pan that I like (stoneware!) and I feel like start to finish cookies take me 3 hours to prep, mix, bake multiple sheets, cool, and clean up.
I think I managed to nip the problem in the bud today. Instead of making M&M Cookies (a staple around here), we made an M&M cookie pie!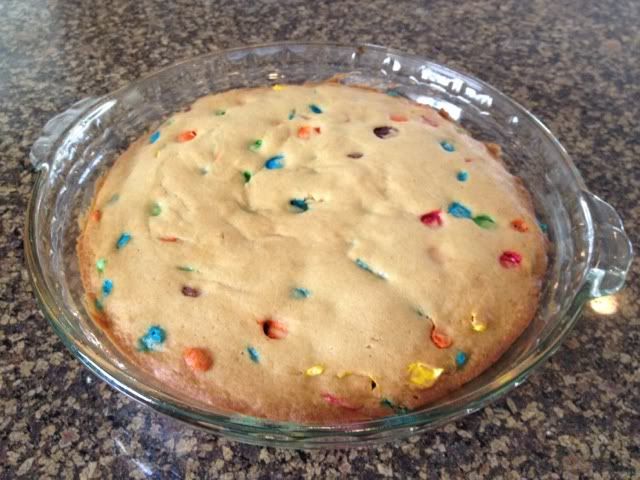 It was nice to see a Pyrex dish get some use around here. I have a whole cabinet of them and most haven't been used. A Pyrex plus is that I could lift the pie up and check underneath to make sure it was done!
Our Recipe-
Cream together 3/4 cup butter and 1/2 cup brown sugar.
Add 1 egg and 1 tablespoon vanilla and mix.
Add 1 cup of All Purpose Flour, 1 pinch of salt, and 1/4 tsp baking soda and mix well.
Stir in 1 cup of M&Ms- and I mean STIR, your mixer will break up the candies, which doesn't affect the pie but it's not as fun!
Pour into pie dish and bake at 325 degrees for 30 minutes. I have a gas oven. It's temperamental. Keep an eye on your pie while it bakes.
I did not take step by step pics. If you need them, go find a Baking 101 blog. You shouldn't need to :)
I did however snap a pic of this option step...lick the paddle clean! She begged, and I gave in.
Did I say she begged? Who am I kidding?
excuse the *awful* front camera iPhone pic! 5-year-old insisted I take a photo of myself.
It's pretty good. The cookie part isn't super-sweet, but the M&Ms make up for it.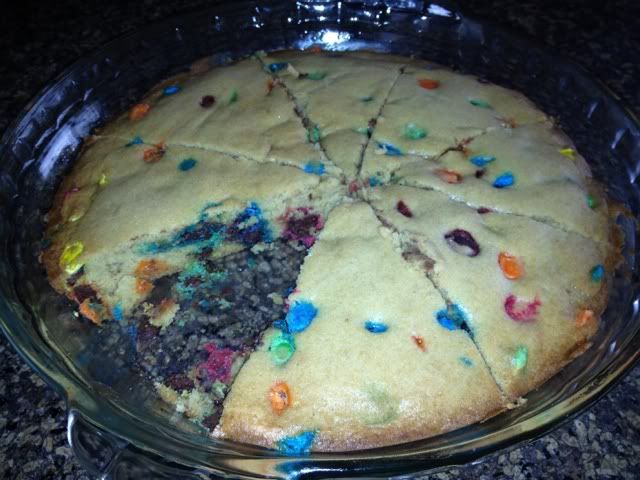 So here is where we are at in household projects!
-Sensory Play Wall for 2 year old- I scrapped some of the idea. It was going to be Felt Board, Magnet Board, Book Shelf. Now it's going to be Felt Board and Rain Gutter Bookshelves. I need to actually FINISH this.
-Office- well I got my Ikea shopping spree recently and the office has been redone (again). We have a wall of cabinets, 5 lower and 2 upper, that I love having in the office but the tops are just wood and are scratched. The only thing on them right now is the printer so it's kind of bare. We're going to tile the tops, install some stemware hangers, and turn it into a bar!
-Master bath- I'm hunting for swarovski (or similar) covered handles and cabinet knobs which should finish the room nicely!
I am really hoping to get all of that done within the next week! Stay tuned!