In March,
I consolidated all of my dry baking goods into food grade canisters with custom labels
and I love the look. The photos on my blog don't do it justice and need to be updated!
Well, I've been meaning to do something similar with my spices. Between my mom visiting us and then us going to see her for a month, I haven't gotten to DIY as much as I normally do these days. I'm still on that vacation, in fact. However, less than a week after we get back we are taking a second vacation to Los Angeles and DisneyLand, so I decided to get a head start!
I found these clear plastic jars with stainless steel (maybe?) lids at Michael's. They are screw top and a 6 pack is $9.99. Google "Michael's Coupons" or check the Geoqpon app on your phone and you will find a 40% off one item coupon. They are ALWAYS out there. I have 16 jars of spices, so I just printed 3 coupons and checked out 3 times.
Next, I googled for a blank spice jar label template and spent some time in Photoshop.
Yeah, they're not perfectly lined up. Again, this isn't a magazine-spread-picture-perfect-Stepford-Wife type blog. I'm a human and things aren't perfect in my life. Plus, I may not even stick with these labels. I did learn from my pantry re-do that squares or rectangles are the best shape when you have to cut out a bajillion small pieces. These are pretty though, aren't they?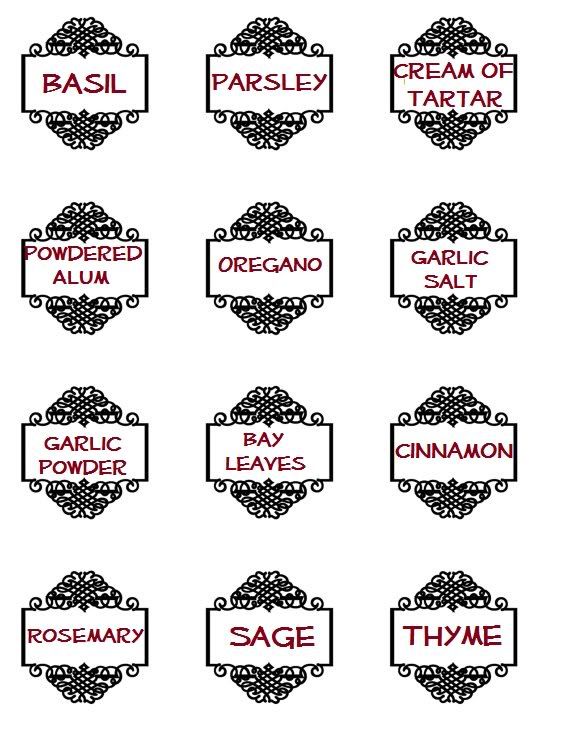 Stay tuned to see how this project turns out!