Awhile back my hubby brought home a big stack of pallets from work. They were moving into a new office and he had heard me mentioning all the things you can do with pallets (thanks, Pinterest!) and it turns out he was
listening
.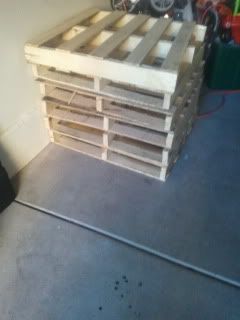 Pretty much right away I knew I wanted to make a table. I already had the DIY guide pinned. We bought some sandpaper for the sander, some stain, and some varnish and got to work.
I don't have any photos of this part but imagine a man sanding planks of wood while his wife stains them. That's about it.
Well, those stained planks of wood sat in our garage for months. Every once in awhile I'd think of going outside and screwing the table together myself, or we'd mention that we really should finish it, but we never did. It would have been a coffee/end table. I like not having a coffee table in my living room. I wasn't really sure what we were going to do.
I left for vacation about 2.5 weeks before the hubby did. While I was gone (actually- I'm still gone- I haven't seen this in person yet!) he made a garden in a corner of our backyard. We can't plant into the ground here- Vegas ground needs a jackhammer to get into it! So this worked really well. He planted two rosebushes, one in the color of my birthstone and one in the color of my son's birthstone. My son's bush isn't blooming yet but I'm hoping by the time I get home they will both be full of roses!