This morning Frankie's therapist came over at my request. We have been having some bad sensory issues lately and Frankie hasn't taken a "real" bath in a few weeks now. She made many sensory play toys for him and it culminated in a sort-of-bath that he had a blast in!
We started with a "bean bag." You put stickers inside the bag and then beans and tape it closed. The child has to move the beans with their finger to find the stickers. The weight and fluidity of beans simulates water.
That was followed by a small bin of the same beans and water. A TINY bit of water at first. Within a few minutes he was letting us pour water on him and splashing it.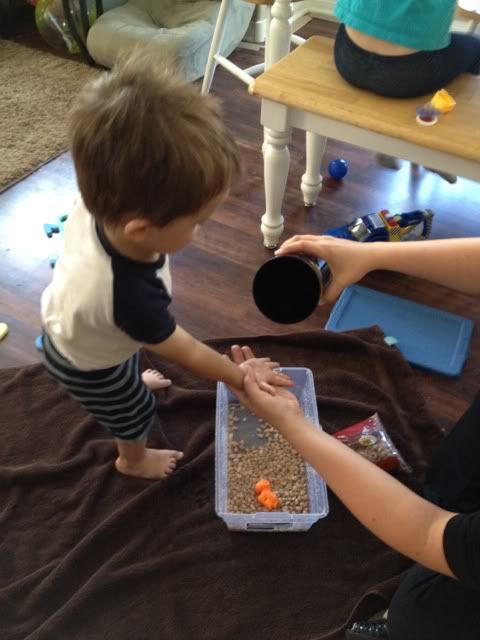 These were reminding me of my rice bin, which I brought out to show his therapist.
And also my Moon Dough- 8 cups of flour to 1 cup of baby oil- never dries out, and feels wet and mold-able!
The next thing his therapist did was fill a bag (not completely full) with hair gel and a bit of water. She then put some soft toys in there- we wanted cars but were afraid the bag would rip- and duct tape it closed. Frankie squished it around a bit.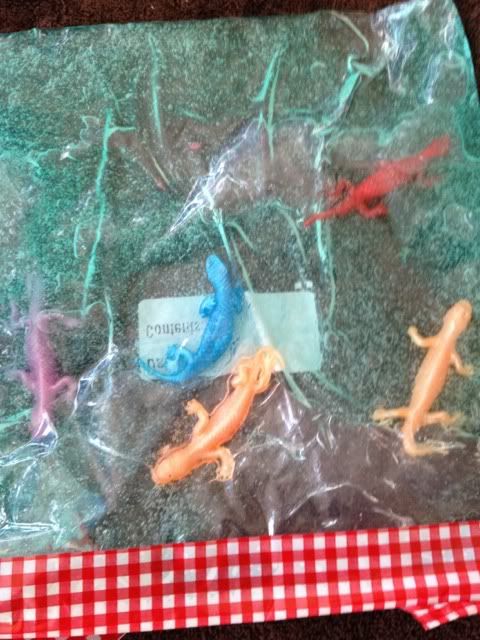 Lastly, we "showed" his therapist the bath tub. We put less than an inch of water in and put him in. Of course he does better for everyone but me so he didn't scream quite as badly. She played with him and within a few minutes he was dumping water on himself. We actually think being naked is now the root problem.
He did not want to take his clothing off at all. When the bath was over he was fine, but when I went to change him he was terrified again :( So, we'll be working on that next!