I've been nursing for a little over two months and the pain of breastfeeding hasn't completely gone away. I also seem to be prone to mild thrush, though I have been good at keeping the baby unaffected. The other day I got ANOTHER blister and decided to look into getting Dr. Newman's All Purpose Nipple Ointment prescribed.
The
RX info is here-
http://www.nbci.ca/index.php?option=com_content&id=76:all-purpose-nipple-ointment-apno&Itemid=17
My insurance doesn't cover it and the out of pocket price is $85. The pharmacist showed me the over-the-counter versions of the 3 ingredients and told me to mix equal parts and store in a jar. If you are prone to thrush, blisters, or general nipple pain, this is recommended and you only use a tiny bit. They say a tiny bit is OK but I still wipe off before breastfeeding cause it can't taste pleasant and I'm still not sure about the steroid part for a baby.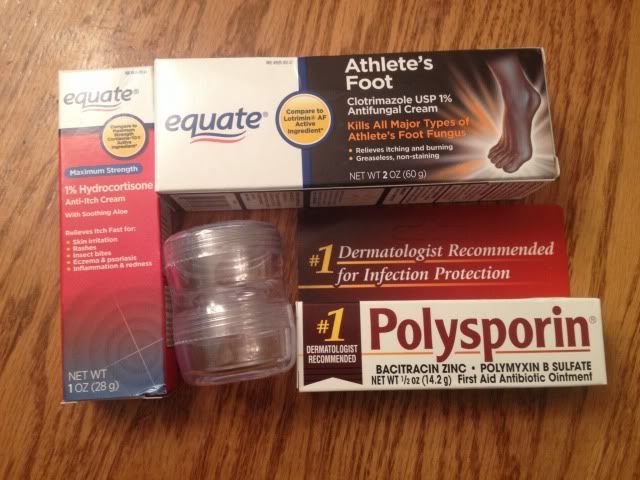 You need- an antibiotic ointment, a steroid, and an anti-fungal. That's actually pretty easy to infer from the RX link but I never thought of trying to DIY it til she suggested it. I found the little jars in the "trial and travel size" section for 99 cents.
I just stuck equal parts in a small bowl (I used all of the antibiotic ointment and while the cortisone on the bottom looks like more, it's wider but shorter than the other two) and mixed them all together.
Using all of the antibiotic and matching parts of the other two, it filled both jars perfectly! Showing jar sizing-ignore my awful (lack of) manicure!
Then just for fun and identification I cut two breast feeding awareness stickers with my Cameo.
I hope this helps someone else out there! Hang in there!