In our office, there is a wall of cabinets. We knew they were there when we built the house, and we knew they'd match the kitchen (and bathroom) cabinets, as our builder didn't let us change cabinets for some reason. What we didn't know is that in the office the counter top would be just wood. It gets scratched easily and looks cheap. We also didn't really use this space for much more than collecting junk.
See?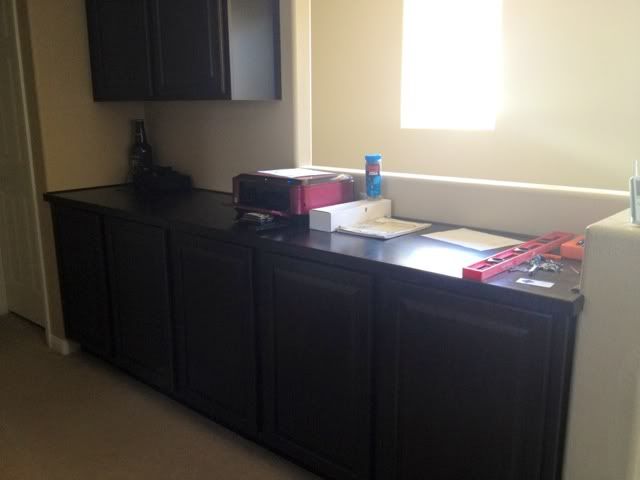 I thought about removing a middle section and making a desk, but then I'd have a chair blocking the hallway. I tried to keep it as clear and clutter free as possible, and it felt like a waste of space. Then I thought about making it a bar, since all our liquor was in a cabinet with my kiddie craft stuff, but you can't put cold beverages down on this wood or you'd get a ring.
I couldn't get the bar idea out of my head, and one Friday, we made it happen for $45!
First, I got some peel and stick tile at Lowe's. $15 after military discount. We had one tile left over.
First we laid it all out.
We saw we'd have to trim the far end and along the front. We also made sure all the arrows on the back were facing the same way for grain matching.
We laid out the back row first (but not the very last tile that we'd have to cut in half). We then laid out the front row, trimming every tile as we laid it. We used a box cutter and a lot of luck.
We trimmed it to that line, so there's about an inch of wood trim in front.
We then cut the final two tiles to fit (about 2/3'ds size) and ran over the whole thing with a rolling pin to help it stick.
Next, we took two stemware racks from Bed Bath and Beyond ($12 with coupon) and installed them under the upper cabinet for our wine and champagne glasses. We brought our liquor up and added a set of cocktail accessories (shaker, etc. $18).
What do you think? I feel like it's a much better use of that space, and much nicer looking!
We're going to mount a paper towel holder, add a black blender, and a small (3-6 bottle) wine rack and then call this puppy done!
Before & after