Making your own pita bread is really easy and needs so few ingredients, I bet you can make them with what you have on hand!
1 tablespoon of yeast
1 teaspoon of sugar
1 teaspoon of salt
1.5 cups warm water
3 cups all purpose flour
Add the yeast, sugar, and water to your stand mixer bowl and let it sit for 10-15 minutes. You want the yeast to be frothy and bubbly. If your yeast doesn't "come alive" so to speak, your water may have been too hot (which kills it), not warm enough (doesn't wake it up), or you need to go buy a new can of yeast. Don't omit the sugar- yeast eats it so it's like a little snack to get the yeast going.
Not quite done, but getting there!
In a separate bowl, mix the flour and salt. When possible I like to use my 4 cup Pyrex glass measuring cup rather than dirty bowl a bowl and a measuring cup.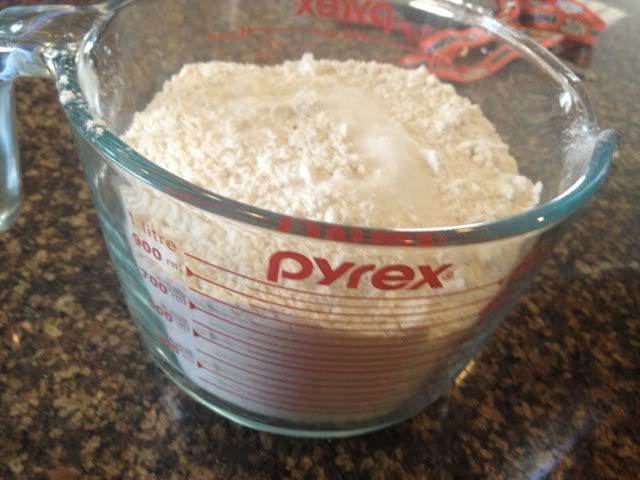 Attach your dough hook and slowly mix in the flour/salt mixture. Keep mixing until the dough is really smooth and rides the hook.
Now take your dough out onto a floured surface and knead it well, really putting some elbow grease into it. Knead it a LOT. Try to make at least 5 minutes before your hands get tired! You want the dough to be really stretchy, but not sticky. If it's sticky add a tiny bit more flour until it stops.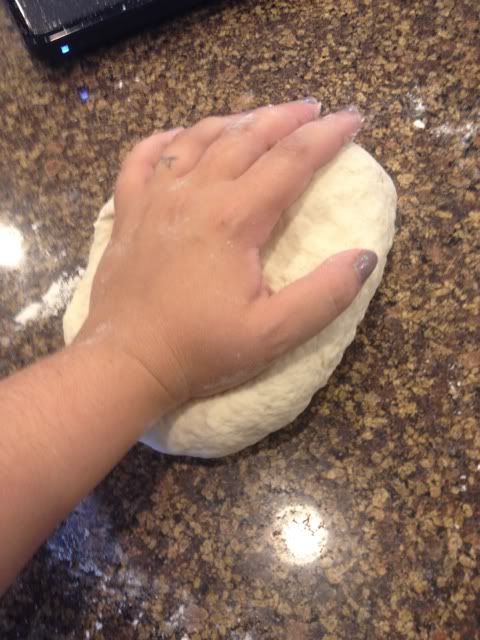 Break the dough into balls. I found that 6 balls was a good size for pitas but that's up to you. Just remember to adjust for baking time if you go much smaller or bigger.
after you have the balls rolled out nicely, play them on a tray and flatten them with a rolling pin.
Let these rise slightly. It should only take about 30 minutes, although if you have your a/c going like me, you might need to play. I throw some barely damp towels in the dryer on hot for 10 minutes, then stop the dryer and pop my trays in there and shut the door. Otherwise my house just seems too cold for anything to rise in the summer with our a/c on.
When you think it's about time, preheat your oven to 500 degrees. When the oven is preheated and the pitas are risen a bit, take a spatula and flip the pitas over. Put them in the oven right after doing that. You will bake them for about 15 minutes depending on your oven.
*Note- I used a stoneware pan for 3 pitas, which is non stick and fab. I only have one so the other 3 pitas went on a metal pan. I did not grease it and did not need to.
After the first 8 minutes or so you should see your pitas looking puffy!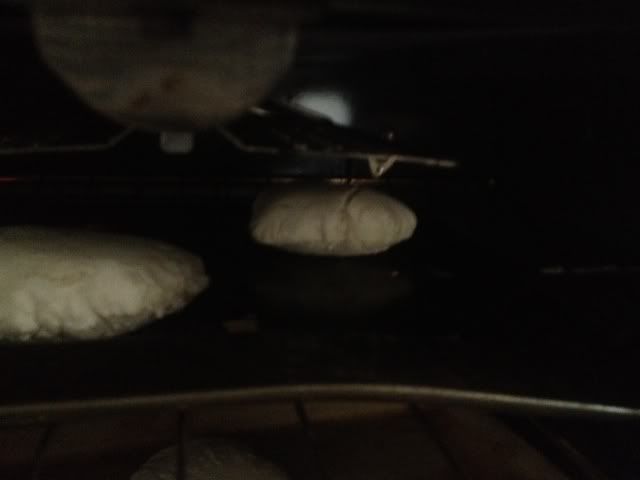 Once they are starting to turn golden (around 15 minutes) they are done! Let them cool, then you can slice into the pocket and stuff them (and stuff yourself!)
pre-slicing