This isn't a fashion blog. This is a "my life as a mom who has hobbies" blog.
I've read fashion blogs. My good friend has one and I follow it. That's just not me, though.
You've seen inside my travel make up bag
, and you know that I love good, quality brands. What you don't know is that since I was pregnant (and developed everything from gestational diabetes to pre-eclampsia), I've lived in sweatpants. Or yoga pants. Even, to my shame, pajama jeans. I love comfy clothes and I don't have my pre-baby body back yet, which makes even more likely to reach for the sweatpants.
I decided to steal my friend's idea for "What I Wore Wednesdays" but modify it a bit. Rather than show you what I wore
on
Wednesday, I'll show you what I loved and wore that past week, and show you on Wednesday. Hopefully this will help me make more of an effort- since I'm putting it out here in internet-land, it'll never really go away, so if this segment vanishes, it'll be pretty obvious that I failed, and who wants that???
Thanks for reading my long-winded intro here. In the future, I'll use a better camera, better lighting, maybe get my own mirror (this is in my son's room), etc etc.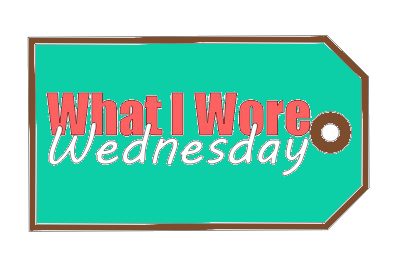 First up: dinner downtown for a friend's birthday. I made the skirt (and just realized I never posted the tutorial. Coming soon!). The shirt is Apt 9 from Kohls. The shoes I got at a local boutique in Las Vegas for $19 and I kind of want to get 5 more pairs and dye them in every color possible!
Since I'm not wearing the shoes yet in that pic, here they are! Leather flats with a floaty ruffed chiffon top covered in crystals. LOVE.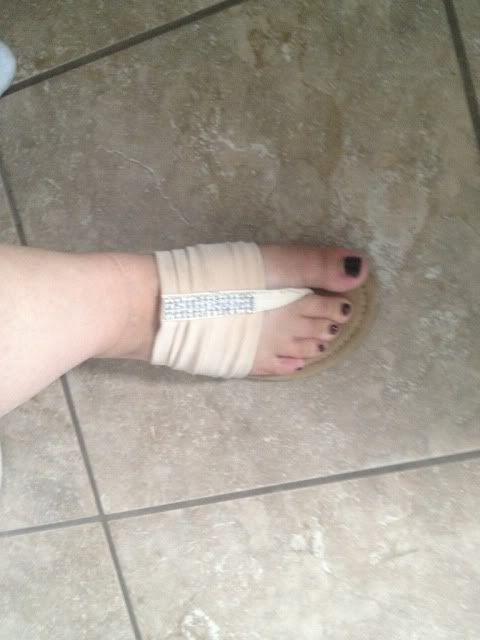 Second: Going to play Bunco on Monday evening. Shirt is from Kohl's but the pattern reminds me of Hermes and Cartier. Jeans are James Jeans, which you can find
here at Zappos
. I do put money into denim because I truly believe you can tell when denim is quality, and when it isn't. Shoes are sequined ballet flats that I forgot where I got, but I'm pretty sure it was somewhere in the Forum Shops at Caesar's Palace, Las Vegas.
And...that's it. Kind of shameful that in the last 7 days, I've worn 2 outfits that I felt were interesting enough to photograph. At the moment, I'm wearing grey capri sweats that say "Air Force" with a little heart over the "i" down one thigh, and a Coors Light t-shirt I got free from my dad's business leftovers. Hey, I'm heading to bed soon. But I may have worn the pants in public today, paired with a plum colored Apt 9 top (same as the outfit with the skirt, but a gorgeous plum color. Those shirts feel like liquid and are $9.99 BEOFRE the myriad of Kohls coupons that seem to exist all the time. How could I not stock up?). I have sweatpants that I bought and wore before pregnancy, then wore during pregnancy, and still wear now. Stretchy = comfy, but I WILL make more of an effort with myself.