Halloween fun continues!
Today I used Avery printable heat transfer material for light colored t-shirts to make this cute little shirt for my son. I got a pack of 6 t-shirts for about $5 at Target. The bat shape was free a few weeks ago from the Silhouette store. He had bones & facial features, but I deleted those and kept the bat outline and then created an offset and made it a darker grey.
The fun part was the text!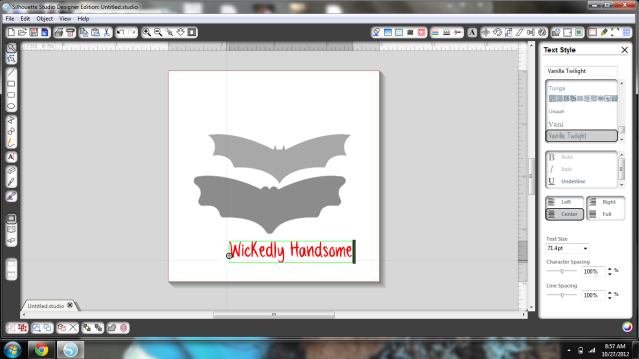 See, right by the W in Wickedly, the little compass-style symbol? Click on that symbol and drag it to any shape and...
Voila! Don't let go of your mouse button and you can drag it back and forth around the shape as well as on and off.
Very, very cool, but it wasn't what I wanted. Rather than just angle the text I decided to try it this way:
Draw a line (or circle, or rectangle, whatever. I drew a line). Drag your text to the line.
You'll see that the line you dragged it to went from red to grey. That means it won't cut. But will it print?
Nope!! Awesome!
I selected the text + line and dragged it into the shape and did a test print.
Then I went back, flipped the whole thing, and printed on heat transfer paper.
Or, you could adjust the text using the green circle and tilt it however way, but experimenting with new toys (aka my Cameo) is something I'm having fun with.