I've been reading some interesting info on the Silhouette Cameo's blade settings. The most interesting is that even though you can adjust the blade from 1-10, Silhouette says you should NEVER go above 3. Um...ok.
Rather than taking advice from the company who you know loves to make profit when you buy new blades all the time, I scoured around the internet for some tried & true reviews of what settings work on what materials. I tried a bunch of them out to see for myself. I ended up meshing together the info from two sites, the vinyl table is from
Expressions Vinyl
and the rest are from
Kathleen Driggers
.
I printed everything out, cut it around the edges, and using 3M Re-positional Vinyl Spray, adhered the tables to the inside of the Cameo door for quick reference.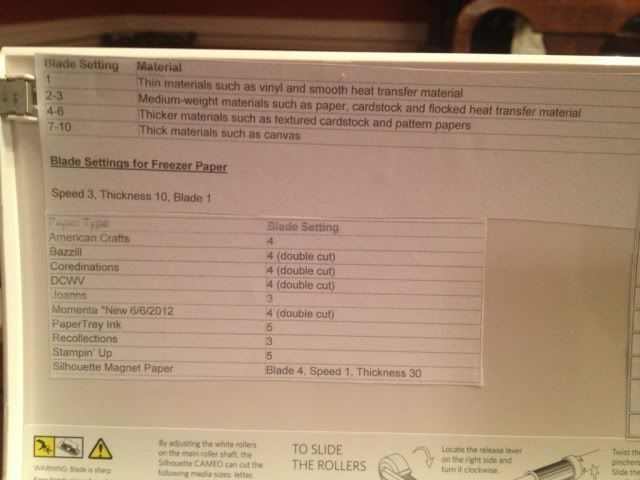 The tables were the perfect size to where they didn't cover the strip with some tips that came with the Cameo (sliding the rollers, adjusting the blade, etc).
And when the door is closed, you'd never know I was gluing things to the underside.