***The giveaway for a FREE Chomas Creations Marker Holder for the Silhouette Cameo is coming soon! Open to blog followers only and you can earn up to 4 entries per person. Follow my blog if you aren't already and stay tuned!***
I was excited today to see tumblers at Dollar Tree (where they actually were $1- at Dollar General the exact same ones are $2.50!) and started looking for a way to personalize them. All 16oz tumblers can vary a bit in dimensions, but I found a blank that did
not
fit on
Michelle's Digital Creations
blog (no fault of hers, she made them for a different brand. It actually *almost* fit). I used her file as a guide, since the curve would give me headaches if I tried to freehand it.
It took some time and a lot of test cutting but I finally got a blank that fits the 16oz Dollar Tree tumblers and you can download it
right here for free.
If you use my guide for your Dollar Tree tumblers, look at your tumbler around the bottom. Notice how it's double walled? And that the inner liquid holding cup starts a tiny bit above the real bottom of the cup? Line the bottom of this blank up with the bottom of that inner cup and it will match up perfectly.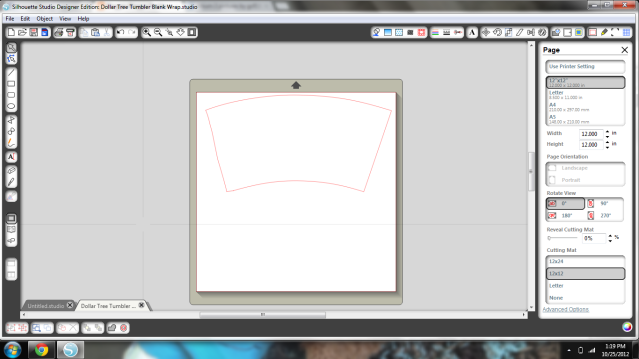 Can you see the red cut lines? I'm sorry that it's so hard to see! I found that highlighting this picture helps somewhat.
I then took my blank file and decided that my day wasn't hectic enough, I needed to make pretty pattern and weed it. All the tiny pieces of it. Then wrapped it around- which has a learning curve!- and cut a vinyl name to go over it. This was done by filling the blank with a cut file pattern so that it cut the pattern in the shape of the wrap itself.
I'm basically calling this attempt 1. I will most likely peel it off and try a simpler pattern, or just the name + embellishments and not a full pattern. The pattern isn't 100% smooth due to me not ever having wrapped on a curve before, and the name is too big for my liking ("Ciarra").
On the vinyl note, outdoor grade vinyl (such as Oracle 651) is recommended since tumblers will need to be washed if you drink out of them. Many say to hand wash, some have used the dishwasher with no issues.
I share my files on 4Shared, which is free but may require registration. Please do not upload my files anywhere without my permission, but feel free to share either blog post links or the 4Shared link itself.