You know what's hard?
Taking a photo of your own hair, using nothing but an iPhone.
I got highlights, lowlights, and a glaze done while I was at the spa today. My facialist was 45 minutes late (grr) and like a drone I was sucked right in to the idea of (paying for) another service while I was waiting. I love how it came out though!
This photo is pretty color accurate:
This one isn't as accurate on the color, especially the red, but it's a better view of how chunky I like my highlights: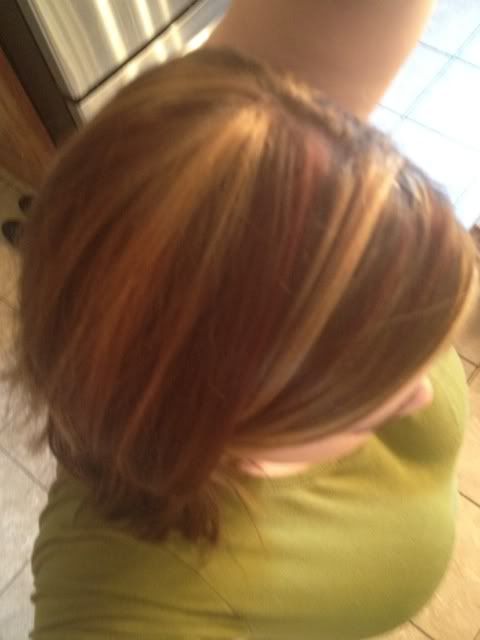 Hopefully I have time to keep up with the maintenance now!
My facial was very relaxing, although I did learn there is nothing over the counter that will help with the spot of acne scars from while I was pregnant. It's on my left cheek and the scars are red, so it's noticeable and I hate it. I will have to visit a dermatologist, likely for an Rx Retin-A type of cream.
So, who has tried Garnier B.B. Cream?
I picked some up yesterday in Light/Medium. It fits my complexion well, but anyone even a shade paler than me will probably think it is too dark. I swear it has more coverage than my Lorac foundation. However....I don't think it's a real B.B. Cream, at all. If you know anything about B.B. Creams you will likely think this is just a tinted moisturizer, and that's what I'm leaning towards. It felt nice after my facial, but it was not particularly healing or soothing. It may replace my tinted moisturizer (or maybe I'll stop wasting my Lorac foundation by mixing it with moisturizer) but I doubt it will replace a B.B. Cream for me.