Food on the Table
is a really neat website I found recently. Before I keep raving about it, let me point out I don't get paid for reviews, this is not that kind of blog! That said, this site is really cool.
After you sign up, you select the stores you shop at and your zip code. From there, you choose the type of meals you like. Don't like turkey? Don't check that box! Like lots of pasta? Good, let the site know.
It will then browse the sales in your selected stores and suggest a meal plan for the week based around your preferences combined with the sales. For example, last week it said that if I went to Smiths I would save $4 on chicken, while Wal-Mart had $3 off turkey. That alone is a pretty cool feature!
As for the meals- it suggests some for you, or you can browse, or even upload your own. I uploaded all of my side dishes and a few main dishes for easy of use. It's great to know when things I make often will have their ingredients on sale!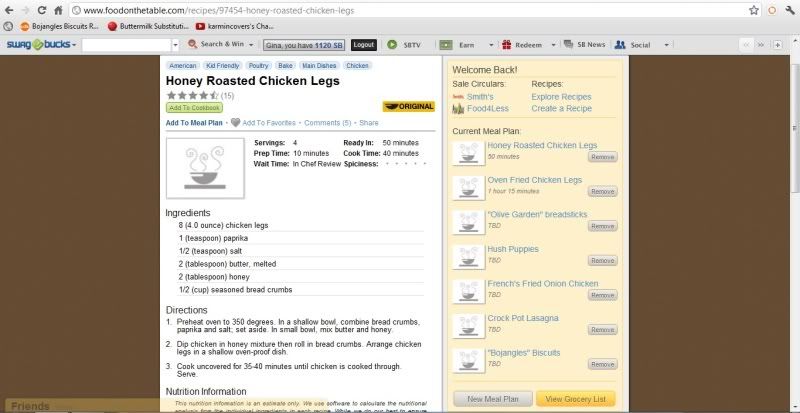 The last cool thing it does is e-mail you your shopping list! You can also view & edit your meal plan and shopping list on an iPhone app that I have found very easy to use. It even suggests common ingredients that have brands on sale, like for example here for Milk, it lets you know that Mountain Dairy is on sale with your store rewards card. You can also add items that aren't related to your list, like shampoo and whatnot, making this a handy app that just might replace OutOfMilk on my iPhone!
This photo is not of my e-mailed list, but the one on the site. However, you get the idea.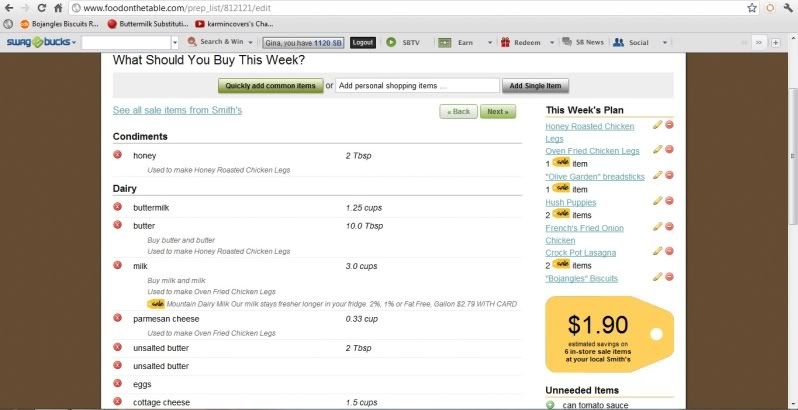 Here are some screenshots of the app on an iPhone 4S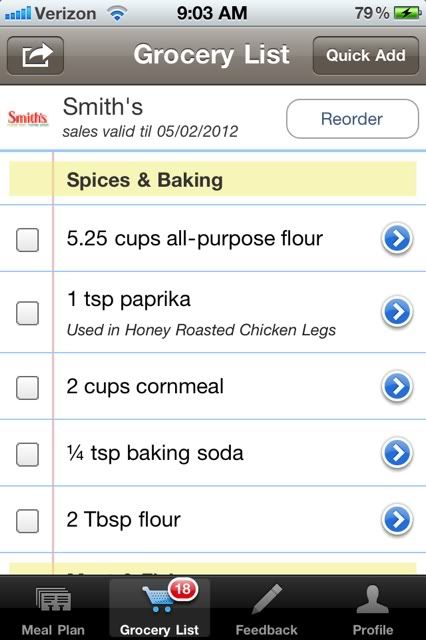 I did spend a bit of time uploading all the recipes I use often, but now that I've done that, it's done. I'll know when all of the ingredients are on sale and at what stores, and with just a few clicks I have a weekly shopping list in my e-mail for quick review.
Let me know if you like this site as much as I do!