Today I have been busy!
First, the rugrat and I ran over to Target, where I don't go often. Our experience there kind of reminded me why. I got this curtain rod labeled $2.36. It rang up $10. I politely explained I didn't think that was right and was told "Go to Wal-Mart then." Oookay. I left the line, went back, and took pics of where it was marked at that price. Took them up front. Had to get a manager involved, but I did finally get it at the marked price.
It was worth the hassle though- I have this big blank wall on the mostly unused first floor, right by the doors to the garage and the guest suite. I also have tons of stuff that the rugrat has made, both at home and at his Occupational Therapy play groups. I can never bear to throw it all away and it's been shoved on top of my fridge for awhile now.
Well, take a look at it now!
Here's my source pin, which doubled the rods
.
I also put together a coupon binder. I rarely use coupons. My Sunday paper is mostly ads and no store in my state will double, so usually the Kroger brand is cheaper even after a coupon is factor in. However, I do tend to print out lots of coupons and Kroger occasionally sends me some, plus the random rare occasion that manufacturer coupons show up in my mailbox. Last week I got the super special "20% off EVERYTHING!" at Ulta coupon- only comes once in a blue moon and it's the only one I can use on high end brands in there! Also, I have Gymbucks ready and waiting! I need a place to save all of those besides my junk drawer.
I printed off the
label pages from this link
, but really you can make this yourself easily. Rather than use baseball inserts, I just put the coupons behind the label paper they go with, so it's in the same sleeve and easy to find. Works for me.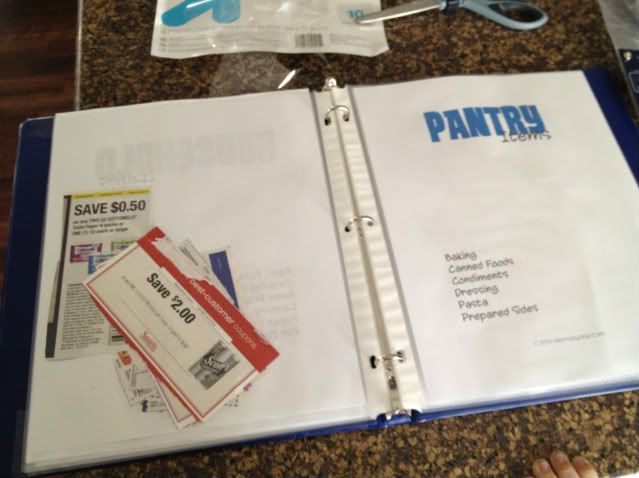 Notice the toddler hand? He was helping with "Mama's book!" How adorable <3
Lastly I wanted to make
this "Our Week" dry erase calender
. Everything was really easy to find. Just go light on the color & print of the paper so you can see your schedule easy! I was going to cut out letters with my Cricut, but my blade went dull and I realized just using it all as dry erase gives me more versatility, so I may leave it. Either way, it works for now.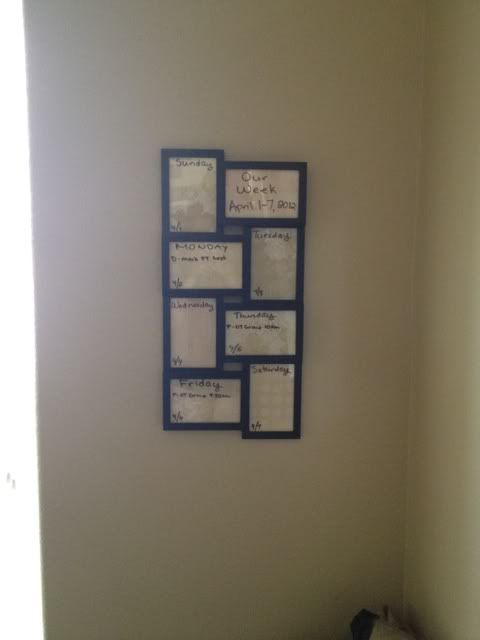 Right where we can see it all the time!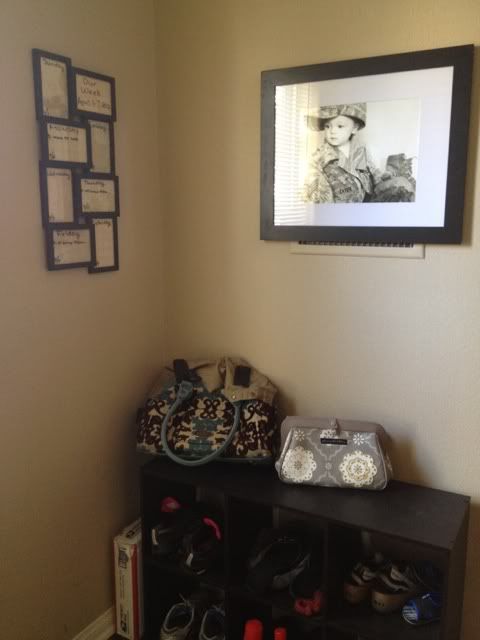 I'm thinking of getting different color makers for each of us to make it easier to see at a glance who has what going on, then again, the black shows up nicely and I'm not sure green would!