I pretty much loathe Olive Garden. Oh, I'll go if people want to, and I'll eat, but I'll get an eye twitch every time someone calls it "Italian" food. Since when does pasta = Italian? Disney Channel has a great spot that shows kids from Disney Channels all over the world talking about how every country since practically the beginning of time has started with flour and water and gotten some variation of pasta.
I do however love their breadsticks and figured they would be easy to make.
I found this recipe
and I honestly think that recipe makes it more complicated than it needs to be.
Exhibit A.
In this attempt, I followed the directions TO THE LETTER. They weren't pretty, and maybe not quite as fluffy as Olive Garden, but they tasted just like it and we loved them. ONE THING I DID- the dough that did not get used for the sticks you see here got put in the fridge. I wanted to see if I could make the dough ahead of time and refrigerate.
Per a recipe comment, I halved the salt in the basting sauce.
I also felt like these were quite greasy from the final basting, which I didn't like and didn't remember from OG.
Ok, so here's Exhibit A.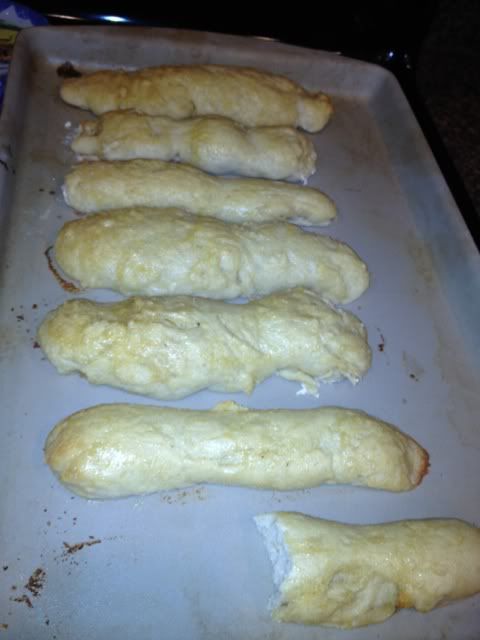 Let's move on to Exhibit B.
In this attempt I used the dough that had been in the fridge for about 24 hours. This dough had NOT been given a chance to rise, since per the recipe, you shape the breadsticks and THEN let it rise.
I however hate waiting for it to rise, so I rolled it into a loaf, sliced it like it was bread, and set it on my tray.
Then I did bad thing #2.
In the recipe, they want you to bake for 6 min, baste, bake for 10 more min, and baste again.
What a freakin' pain.
I simply basted and put them in the oven. Baked for 15 min.
THESE were PERFECT. THESE were light, fluffy, and Olive Garden perfection. They were not greasy. They were also MUCH less work.
So here's my take on the OG recipe, modified in a way that I think actually makes them OG-like:
DOUGH
1 1/2 cups warm water (between 110 - 120 degrees F)
1 package active dry yeast
4 1/4 cups all-purpose flour
2 tablespoons unsalted butter, melted
2 tablespoons sugar
1 tablespoon salt
Pre-heat oven to 400 degrees.
In a large bowl, dissolve sugar and yeast in warm water and allow to sit for 10 minutes, covered. Mixture should be frothy.
In separate bowl, combine flour and salt.
Add to yeast mixture. Add melted butter. Mix with paddle attachment of stand mixer or wooden spoon until fully combined.
Knead until smooth, adding flour to your surface, your hands, and dough as needed to prevent sticking.
Grease a cookie sheet or use your trusty stoneware pan and shape breadsticks onto pan.
Make your basting sauce:
1 stick unsalted butter (or 1/2 cup margarine)
2 teaspoons garlic powder
Pop into preheated oven and bake for 15 minutes or unt
il starting to turn golden outside.