I have seen lots of fall decor around lately. I've even seen files to buy all or parts of a banner both in the Silhouette Online Store & for sale around the net by various file makers.
The thing is, I like being creative. I wish I could freehand draw in Silhouette Studio; that would make it perfect. I *almost* bought a set of files on the Sil Store for a banner, but each letter in "Harvest" was a different 99c download, and I couldn't find the file for the H! So, DIY it was! I managed to make this ALL with shapes I already owned.
I started with this shape. I used it to make a tiny print & cut banner that I made to go with a scarecrow in a plant.
I deleted the rope shape and all of the triangles except for the middle one.
I wanted it to be a large banner so I stretched this as large as would fit on the 12x12" mat.
I then created an Internal Offset and increased the offset distance until I liked how it looked.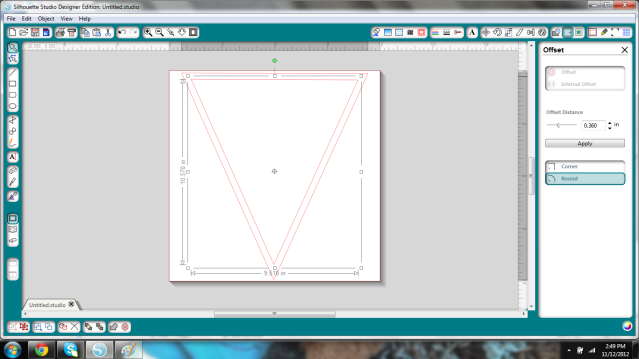 Next I added two small circles (I made one and duplicated it so they'd be the same, actually) to string my banner up. Twine in mind at this point.
Now- remove your inner pieces, and group the holes & outer triangle. Save it, as you'll need to cut it for each letter. I'll need 7 for Harvest. Set it aside; you don't need it any more.
Take your inner (the Internal offset) piece, type your first letter, find your font, resize, and stick an image you like on the bottom (if you want). I had a group of leaves, a pumpkin card, a gourd-type sketch, a turkey, and I took the hat from the Scarecrow shape which I stretched taller and added 2 squares for a buckle- instant pilgrim hat!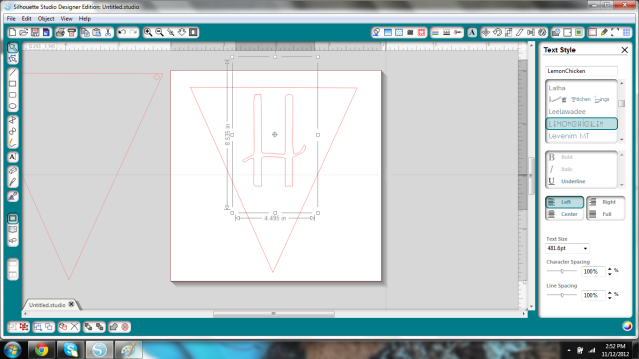 I just kept duplicating the Internal Offset triangle and resizing shapes that I thought would look good, and when done, I lined them all up and zoomed out so I could get a look at it. I didn't duplicate the outer triangle 6x because I just used my imagination.
It's kind of hard to see from that pic but I was just getting a general idea of how it would look in case I needed to tweak it.
I then went to Michael's, since I have a library of vinyl but no cardstock, and just kind of visualized it with the current fall decor on the mantle. This orange background flag is GORGEOUS. I wish I could photograph it or describe it accurately. It's a deep orange, but iridescent, almost like a good expensive fabric that shimmers and takes on a life of it's own when you move. Anyway, total for 14 sheets of paper was $8.86.
Cut, glue, string, & reveal!
My house has toys on the floor. I have a toddler. Also, I love the food network.
I used brown string that I got at Michael's in a 3-pack of brown shades for about $2. I strung it so that the string was behind the triangles from hole to hole rather than in front. Oh, and the length? I taped it to one end of the mantle, strung the flags on, and hoped like heck that the flags weren't going to be too long. I then pulled it up, taped the other end, and slid the letters back and forth until I liked the spacing.
I have to say, I really like how it came out!
I used 3M Spray Adhesive. I actually really dislike working with glue. I find spray adhesive the easiest to use, although I have to keep washing my hands, but it does give it a nice and fast even coat. It's not completely tacky for the first minute or so, making it re-position-able (at first). Little pieces, like the turkey face, hat buckle, or inner letter pieces I used a glue stick.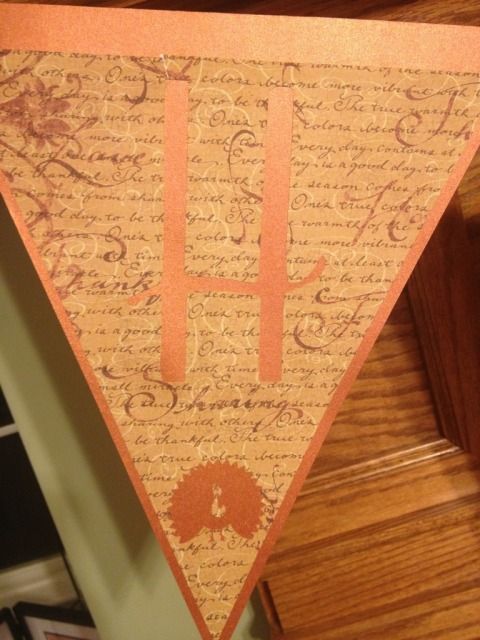 I had a "handy helper" (Oh, Mickey Mouse Clubhouse, how you've implanted into our brains after nearly 3 years) for most of this too!