***
First- if you want to win a marker holder for your Silhouette Cameo completely FREE, go here!
***
Today I'm doing a lot of brainstorming and wandering around stores taking pictures of containers. This is because (since the military sent the hubby on a year+ long "vacation) my son and I are staying with my parents, and my mom was nice enough to let me turn her formal dining room into my craft room. The thing is, the furniture is heirloom, so A) It needs to stay protected and B) It is not going anywhere!
I've been trying to work with it-basically using a tablecloth to protect the table is as far as I've gotten there- but stuff is starting to take over and my mom keeps hinting about all the storage stuff at Michael's. What I wouldn't give for an IKEA right now!
Anything that hangs on the walls is out. Anything permanent is out. Replacing any furniture is out. In addition, I have to rent a trailer to get all our stuff home, so easy of moving (and lightweight) is a high priority.
Let me show you what I'm working with so far: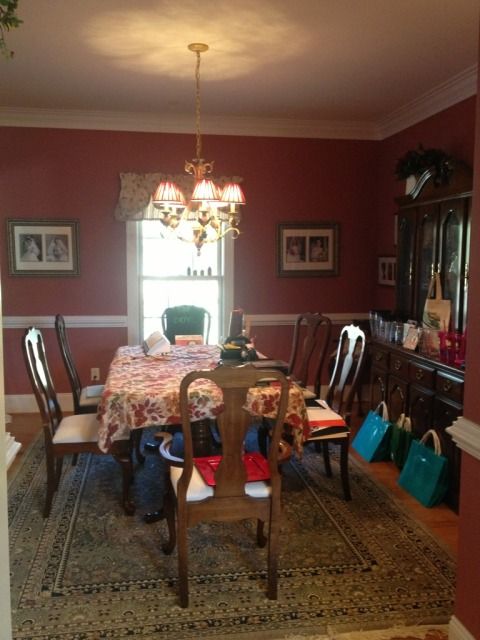 A plus- the table is large!
A minus- that chandelier (and two sconces that you can't see yet) don't provide nearly enough light.
Only one corner has anything in it- see that chair with the porcelean dolls? Since I have a toddler I may convince my mom to let me stick that safely in the closet, therefore opening up that last corner for space.
This end of the table holds the Cameo, the Cameo Kits (top chair) and the Cameo mat (side chair). I kept losing track of the mat in the clutter, so on the chair it goes. I also tossed a heat transfer shirt project there, since the material is in that blue box.
Over here we've got the space where my laptop goes (and where I sit) when crafting, my caddy of tools, and a new toy, a Sizzix Big Shot and related accessories. I was given that as a gift just yesterday and I honestly thing considering the space and the size of the accessories it's going to need it's own card table or something.
That far chair holds stuff I still need to personalize or otherwise craft.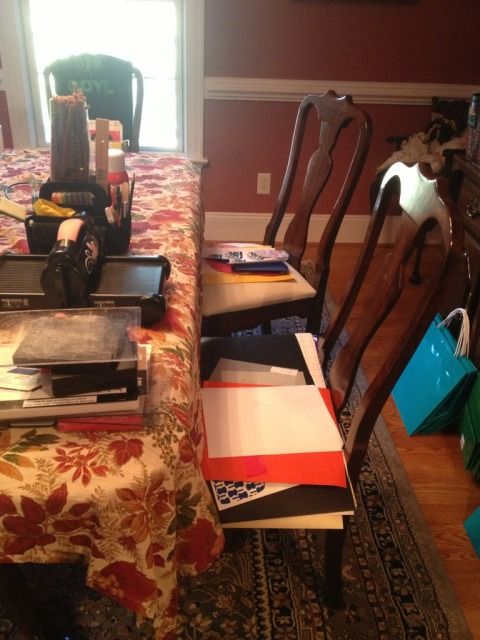 These last two chairs hold materials. The far chair holds card stock. The bottom chair holds vinyl of all types and sizes. Matte, gloss, permanent, repositionable, printable, patterned, frosted, glitter....all in one big pile.
The china cabinet and this big empty corner are getting used to hold things for a craft fair this weekend (except for the few cards- those were little projects that I just have displayed). The bags are also for the show.
Last corner. My gifted Sizzix Big Shot came with a bunch of gifted felt and foam pieces. I don't even have a bin for those yet.
So yeah...I'm going to be here for quite awhile longer and this setup isn't working.
I'd like-
-a work area that isn't soft because it's covered with a table cloth
-a way to sort and organize my materials
-a separate work area for the Big Shot
-a place to store finished projects that isn't in danger of falling off the edge of a display cabinet or on the floor where my toddler tries to use the plates as stepping stones (or flat out steal the stuff he likes!)
It needs to be-
-non-hole-in-wall requiring (or hanging, period. My dad doesn't like even 3M tacky stuff on the walls)
-lightweight (for moving)
-non-built in (for moving)
-not garbage (because I hate wasting money)
-has the potential to work in any house I live in (since we're military)
I do not live near an IKEA where I'm confident I could whip this out in an afternoon. I also don't live near a Joann's, Archiver's, Hobby Lobby, or Container Store. I have Wal-Mart, a small Target, a small Michael's, and a TJ Maxx.
Suggestions welcome! All I've got in my head is the Recollection storage at Michael's or the junky plastic 3-drawer stuff at Wal-Mart, with a plastic card table or two.