Today I got the
Chomas Creations Marker Holder
in the mail. It lets you replace your Silhouette blade with any writing tool that fits.
So the first thing I did was try:
A red gel pen with a fat, flexible grip
A common wooden pencil
A green permanent marker knock-off brand skinny...something. Felt tip.
A typical white Bic pen
All drawing the same image, a flourish that came stock.
Because there is no lip on the Cameo there's no height limit on your pens.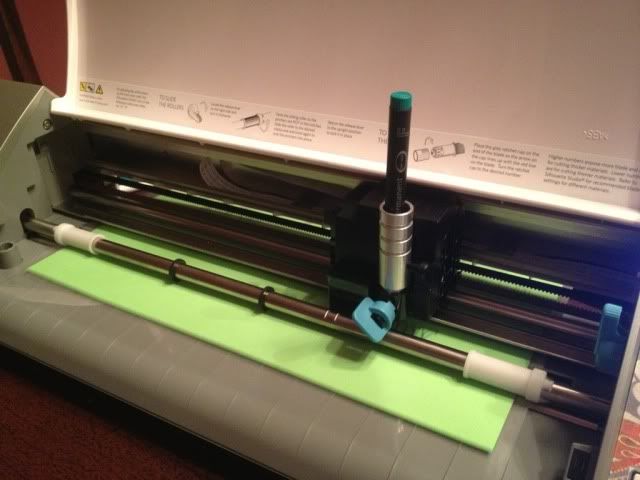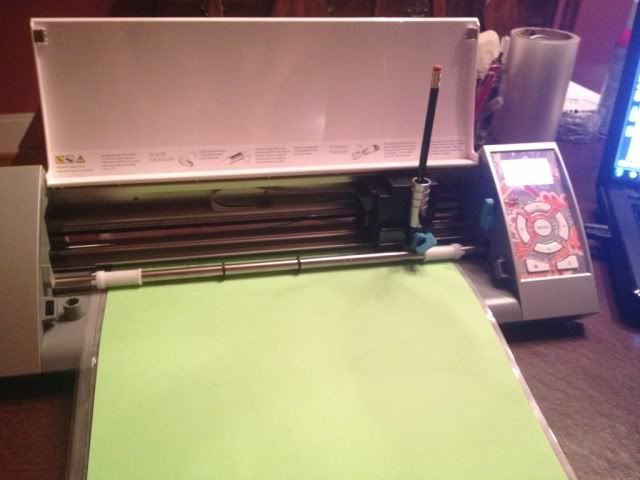 After I tried the shape with 4 different writing tools, I opened up a bunch of fonts and just stuck with the pen that was in there.
Top left- Red Gel Pen. Top Right- Pencil (and it came out perfect, but pencil is light and the flash was bright). Bottom left- Felt tip green pen. Bottom right- Bic pen.
Fonts- Felt tip greenpen. The bottom right font, under XOXO, is ABCDE but in WingDings font.
Here are some close ups:
So, the hollow font thing.
This is how fonts look in design studio: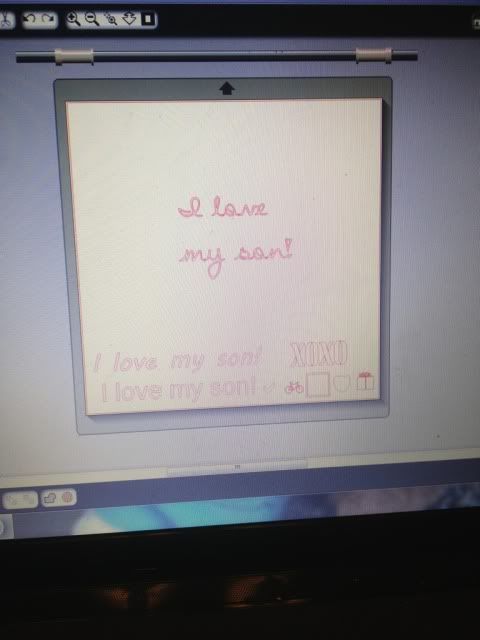 It turns out that to have a not-hollow font, it needs to be a "single line" font. I was told the only program right now that can handle those is Make-the-Cut. Until then, I have downloaded over 100 free "thin" fonts and am slowly testing them out, a 12x12 page a time. Look for updates on that! Hollow fonts can look cool, and I could color them in by hand if I wanted, but sometimes it would be nice to just have a nice normal font drawn out.
I wrote this blog post several weeks ago and it has been a draft ever since. I wanted to update this with customer service raves for Amy of Chomas Creations. Initially, this post was called "Chomas Creations Marker Holder" because I ordered the marker holder. As I was testing out the holder and putting this post together, I realized...no markers fit. I went back to Amy's site and compared photos. Then I asked a friend of mine with the pen holder what fits in her pen holder and compared it to my should-be-marker holder. It turns out, I received the pen holder- and Amy is sending me my correct order PLUS allowing me to keep the pen holder I was sent by mistake! How many companies would do that? Not many! Don't you love supporting the ones that have great customer service? Amy also has marker and pen holders for other machines like Cricuts and Gazelles, along with other fun products, for sale on her website.
Now, for the GIVEAWAY!
I am giving away a Chomas Creations Marker Holder, completely free, shipped anywhere in the US, Canada, or APO/FPO Box.
Here's how to enter!
1) Follow my blog- Instructions if needed =1 entry, mandatory
2) Spread the word! There are a few ways to do this:
A) Reblog any post from my blog =1 entry, optional
B) Pin any post on Pinterest from my blog =1 entry, optional
3) Leave me a comment on this post with your e-mail address, confirmation that you did steps 1 & 2, and an idea you have that you'd use the Chomas Creations Marker Holder to make. OR if you already have the Chomas Creations Pen Holder, leave a pic of what you've made with that! 1 entry, optional, except I do need to be able to get in touch with you!
If you do all 4, that's 4 entries! And let's be honest; this isn't a huge blog, your chances are very good!
This is being done with the Rafflecopter widget. You don't need to sign up with Rafflecopter; just complete the tasks & confirm here in the widget.
a Rafflecopter giveaway
Contest will be open from 04 November 2012 until 11 November 2012. I am not liable for any drama as a result of this post. Must be 18 to enter/win and let's keep it mature & fun. There is no fee to enter, just follow the easy steps above. I will contact the winner at the e-mail address posted for their shipping address. Both this post and this contest are not affiliated with Chomas Creations nor is Chomas Creations responsible for the content of the post or outcome of the giveaway. The winner will receive 1 Chomas Creations Marker Holder via USPS. And don't follow me just to win and then disappear, because that's not cool and the sort of thing that makes bloggers not want to bother with giveaways.
Entries will be moderated for accuracy.
The winner will have 72 hours to provide shipping information before I move on to the next winner.
Good luck!