Tomorrow is the annual Pretty in Pink tournament at my country club. There's a golf tournament, a silent auction, a luncheon, and some fun games & contests. I will be the girl running the beverage cart, so if you need a drink- bottled water or something harder- look for me!
My dad asked me if I knew how to make Jell-O shots. Um...college wasn't THAT long ago! He asked me to make pink ones and he will donate all the proceeds from the sales of the pink Jell-O shots on top of all the other donations.
We already had disposable shot glasses and Vodka. Lots of Vodka- it's my dad's favorite drink. I picked up 5 packets of Strawberry Jell-O mix for 48 cents each. We think I ended up using $8 in Vodka and $5 in shot glasses so just under $18 and we made 100 shots. At $2 each, we're hoping to donate $200 extra by the end of tomorrow's tournament.
My super easy Jell-O shot recipe:
1 packet of 3oz Jell-O mix
6 ounces of water
6 ounces of Vodka*
*
I've read wonderful things about using coconut rum, etc, to compliment the Jell-O flavor. My favorite one is mixing watermelon Jell-O with Midori! Doesn't that just sound Jolly Rancher Delicious to you? So there's room for experimentation with the alcohol type.
Bring 6 oz water (which, FYI, is 3/4 cup) to boil. Add in Jell-O mix and stir until dissolved. Pour 6 oz (again, 3/4 cup!) Vodka into a pitcher. Add the Jell-O mixture to the pitcher of Vodka and mix well. Pour into shot glasses. Refrigerate for at least 2 hours but preferably overnight.
Taking the added step of using a pitcher makes them much easier to pour into tiny disposable shot glasses.
Pitcher- the spout is under the handle of the spatula
I'd also like to add, spread your Jell-O shot containers on a baking tray first. Then pour. Then carefully pick the whole tray up and stick it in your fridge.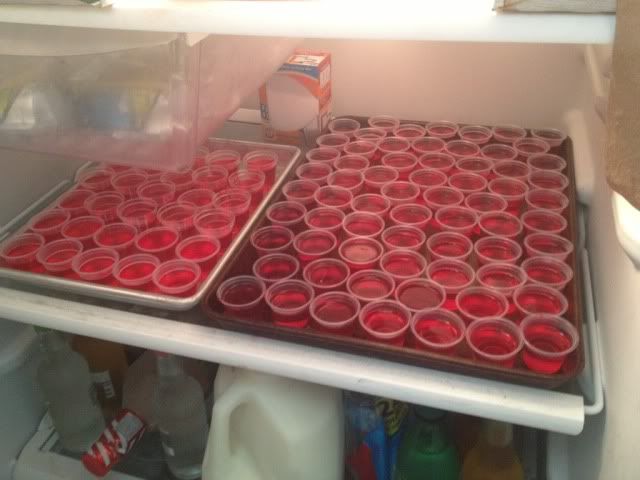 We have 92 golfers signed up and I made 100 Jell-O shots. We'll probably have some extra people at the luncheon, so let's hope I can sell these all and donate $200 for the cure!