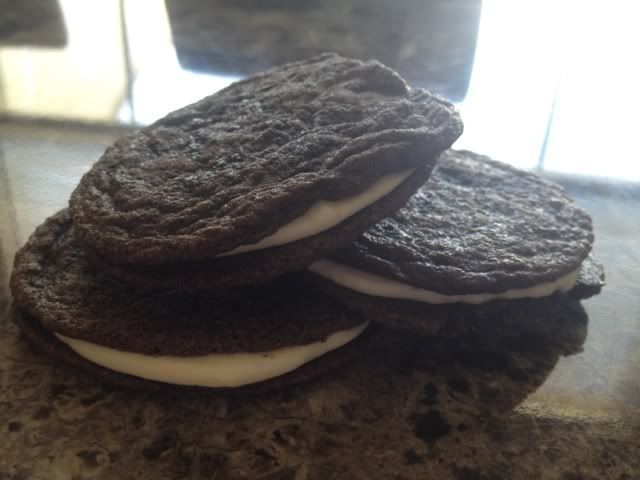 About a week and a half ago,
I tried the Oreo Cookie recipe that was on Yahoo!
(clicky for blog post about that one). They were yummy, but they weren't Oreos other than the size and shape of the cookies.
I've been hunting around for a different take and today I came across
this recipe
and gave it a try. I knew they would not be just like Oreos- if you read that whole web page, somewhere it is stated that they are soft, and there's some ambiguity about how much sugar to add for a sweeter or bitter cookie. I was expected a creme filling that tasted like Oreos, since I read a few reviews that said it did.
My take:
Holy cow, these cookies came out big. I put 12 on standard size trays and they SPREAD. I was cutting what was basically a big sheet of cookie into smaller cookie shapes. On the plus side, they didn't get stuck to the pan as I was afraid they would- they were so thin. I only baked them for 9 minutes as instructed and they weren't overdone or anything, so I guess that's good. It made 32 cookies, so 16 "Oreos."
As for the creme filling- well, try it, you might like it. It tasted nothing like an Oreo to me and it was VERY sweet. Like, I'm at that girly time of the month where I just want to funnel M&Ms into myself 24/7, but this creme was tooth achingly sweet. Oreo creme has kind of a grittier texture than this did. One comment did say to use superfine powdered sugar for a better texture, but no idea if that helps the taste as well.
All in all, dunked in milk, I ate two and my sweet craving went away (for now) and I bet the kids with like them a lot, but Oreos they are not. That's not necessarily bad though. If you want a big, soft chocolate cookie with a sweet creme filling, give them a try!
Dough:
1 1/4 cups all-purpose flour
1/2 cup unsweetened Dutch process cocoa
1 teaspoon baking soda
1/4 teaspoon baking powder
1/4 teaspoon salt
1 to 1 1/2 cups sugar (less might be more like an Oreo, kind of bitter. More for a sweeter cookie)
1/2 cup plus 2 tablespoons (1 1/4 sticks) room-temperature, unsalted butter
1 large egg
Creme:
1/4 cup butter
1/4 cup shortening
2 cups sifted confectioners' sugar
2 teaspoons vanilla extract
Preheat oven to 375 degrees
Mix the flour, cocoa, baking soda and powder, salt, and sugar. On low speed, add the butter, and then the egg. Mix well
Take rounded teaspoons of batter and place on a greased baking sheet (or stoneware, my favorite- but don't grease it!). Slightly flatten the dough- I've found lightly spraying the back of a small spoon with cooking spray to press with works really well. Bake for 9 minutes, rotating once for even baking. Set baking sheets on a rack to cool
To make the creme, place butter and shortening in a mixing bowl, and at low speed, gradually beat in the sugar and vanilla. Turn the mixer on high and beat for 2 to 3 minutes until filling is light and fluffy.
Fill a pastry piping bag or a ziplock bag with the creme. I place the bag inside a drinking glass- see photo. Cut the tip off and squeeze creme onto the bottoms of 1/2 the cookies. Place the other half of your cookies on top of these, tops up.
Creme filling bag inside a drinking glass- makes it easy to spoon or spatula the creme inside!
Update: My husband and my two year old refused to eat them. Not sure what the kiddo's problem was, but hubby just said "too sweet" and threw away the rest of his cookie. Like I said- they are tooth achingly sweet! Be warned!