Awhile back, I wanted a hand stamped silver charm with my son's birthstone and some sort of saying that summed up our infertility journey. I found the perfect charm...for $75. For SILVER. I could never pull the trigger on that purchase and wondered how much it REALLY cost to make. Very quickly, I found out the answer was both "a bit" and "not so much!"
"A bit"- start up costs. A font can be anywhere from $25-168. You also need a steel block with a rubber base, a good sturdy hammer, a sharpee, blank charms, a punch, jump rings, sodering tools, number fonts if necessary ($30+), decorative stamps ($9+ each), birthstones (varies, I paid around 50cents/swarovski and around $1/pearl), pretty pouches, and a dapping block.
You can get a lot of this at Michael's these days and use the 40% off coupons at will. I mostly had to make due with online retailers and the heavy cost of shipping metal items.
All of these supplies except for the hammer live in a small drawer in my kitchen island. The hammer lives in hubby's tool box :)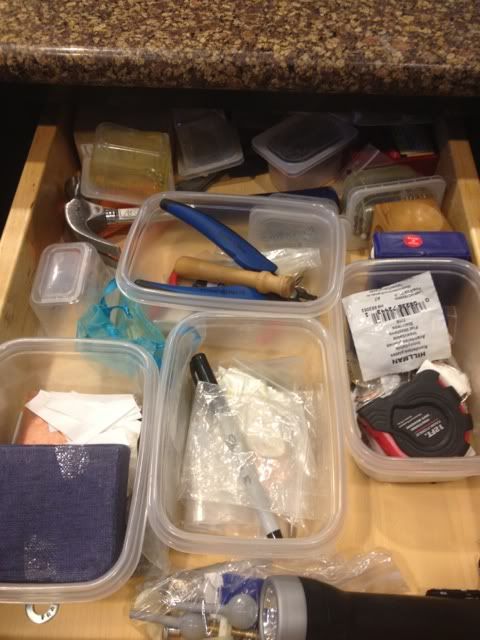 "Not so much!"- A 1" silver blank costs me 65cents. I already own all the tools. I'm still good on birthstone gems, but as I stated above, the most expensive ones were $1 each. I also got into making stamped washer keychains for daddy gifts, and those cost literally pennies at Lowes for the washers and under $3 for a good sized pack of keyrings at Michaels- plus coupon discounts! :)
So, I got all my supplies, cracked out a bunch for my friends at around $10-15 shipped, and make back my money in start up costs. That gave me a lot of practice, it gave them a great price on a lovely item for themselves or gifts, so everybody wins.
Next, I opened up a shop. Very quickly, this sweet article appeared about my jewelery.
Screenshot of article- links won't work, sorry! :)
I had many orders and lots of fun, but hand stamping isn't easy. Lining up each letter or number one by one, keeping them straight but on a curve...oy. That must be where the massive retail price increase comes from!
Eventually I closed up shop and just make them as gifts, or by request for a small fee (basically materials + shipping).
Here's a look at some of my designs!
anniversary/wedding gift
Name + birthstone + small circle
birthstone of 3 grandchildren
Name + Birthstone + Small Heart
Child love + birthstone
Eventually, I branched out a bit into these items:
Photo charm- materials = another start up cost!
Daddy key rings- washers with names & We <3 Daddy, World's Best Dad, etc.
Birds Nests- pearls for # of children, or # of babies that did not make it (unhatched eggs)
Mommy charm with bird nest representing the number of children
I still do these by request, and I have a gallery of TONS of other charms and keychains I have made...all sorts of shapes, sizes, and occasions. I love how creative my customers have been!