I saw this in a few places online recently, and yesterday I hit a pretty big wall of procrastination. I'm taking 4 classes to be done with my degree in June, in the middle of buying a house, a PCS move to another state, and of course pregnant and taking care of my 3 year old. Rather than do ANYTHING on my massive to-do list, I took some vinyl and monogrammed my pedicured toes.
The font is the Circle Monogram from Font Bros. and I used white Oracal 341 for the vinyl. I wish I could get an accurate idea of the size. The thing is, when I select an image in Silhouette Studio, the box it puts around it and measure with tends to be a little bigger than the actual design especially when using font. I believe the total window was 1.42" wide, but the actual design is maybe .80" wide. It'll depend on your own toes, of course!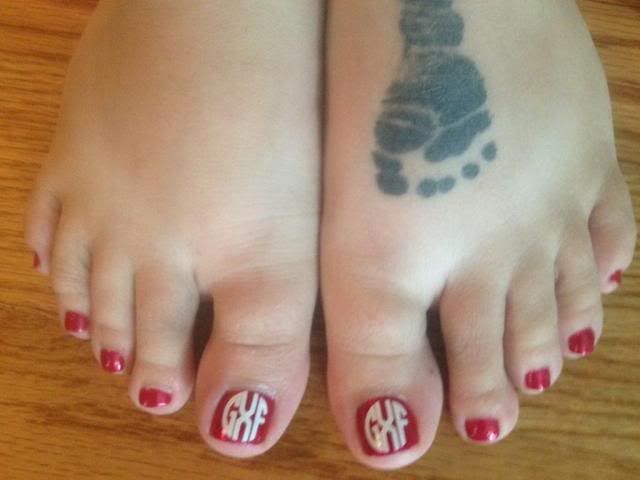 While we're on a girly topic, my workstation has gotten pretty girly lately, huh?
I bought two large sheets of self-adhesive rhinestones from Allstarco.com, cut them to size, and adhered to the Cameo. Took maybe 10 minutes and I didn't use all of the first sheet so I have lots left over to play with :) As for the computer...pink was on sale. Nobody wanted it. I got a great deal. It's growing on me.