Today I got two new toys. One of them is a Smash Book. I have never used one, or really been into traditional scrapbooking. My mom makes awesome Shutterfly books and for preservation and size I think they are amazing. She has put all of my childhood photos into books for me and now makes yearly books for my family. However, the Smash Book is supposed to be fairly effortless and my Michael's store is discontinuing the items, so I got them on mega mega clearances. Between Michael's and Target (also on sale) I got over $130 worth of Smash stuff for under $40. Score!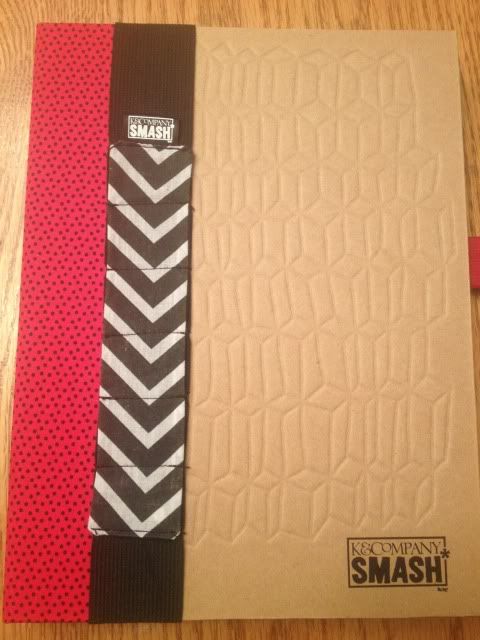 cover will be embellished at some point
I actually didn't have a plan in mind but decided to document my pregnancy. I do feel bad for this baby. With my first son I was constantly taking photos with my DSLR, editing them in Photoshop, documenting every step of the nursery decorating, etc. With my second, I'm lucky to take a selfie in the mirror to show my growing bump.
Page One had an ugly little cartoon talking about how pages can be intimidating and yada yada. That's where the thought bubble the photo is in comes from. I covered up as much as I could. Unlike some amazing Smashbooks I've seen online, I'm sticking with the normal papers in the book as much as I can and keeping embellishments, especially 3D ones, to a minimum. I just don't want to go overboard and I do want the book to stay mostly flat when closed.
The washi tape type stuff is Smashbook brand, and the little card is from
U Printables By Rebecca
who makes free printables in all sorts of categories and they are super cute.
That brings me to toy #2. Today I also got a Xyron, the 900 (9" work surface) to be exact, on clearance for $49.99 from $129.99. Michael's rocks! Joann's also has this same machine on clearance, but for $90, not $50.
If you've never seen one, it's a cool machine that can turn anything that goes through it into a sticker, a magnet, or laminate it (without heat. Without electricity or batteries, in fact). You just install the proper cartridge, put your whatever you want in face up, turn the handle, and when it comes through the other side, use the attached slicing tool to slice it off the roll. Peel off the backing and voila, you've made a sticker, with no changes to the front of whatever you slid through! Ultrasounds stay safe, pictures stay shiny, card stock journaling cards stay cardstock, etc. Much, much nicer than wet glue and less mess than glue dots (my mom HATES glue dots. I get the little clear covers static-stuck to EVERYTHING when I use them).
After I ran those through I just stuck them in the book, easy peasy.
Again, the journal card and the mason jar card are from the printables link above. The little banner arrow tag thingies are Smashbook.
I had a lot of fun with the "It's a Boy!" page. It gave me a natural chance to include a family picture, since it was taken right after we found out. I actually left 2 blank pages in the beginning of the book for something family-oriented- maybe the vacation where baby was conceived? Is that creepy?
Cars from the printables link above, arrows and washi tape from Smashbook. It actually is not stick so I ran it through the Xyron. Presto.
This next page isn't my super favorite one. There was another stupid cartoon saying in the bottom corner so I tried to be cutesy and cover it with black and white washi tape. I didn't mind the bird. These ultrasound photos were shaped a little different and didn't line up as well as I'd hoped. The notes on the left side are from Smashbook (one is trimmed from their little notepad sets, the other is a little taggie sticker), on the right, free printables from the link mentioned above. The "I like this" is part of the page and I didn't mind it so didn't try to hide it.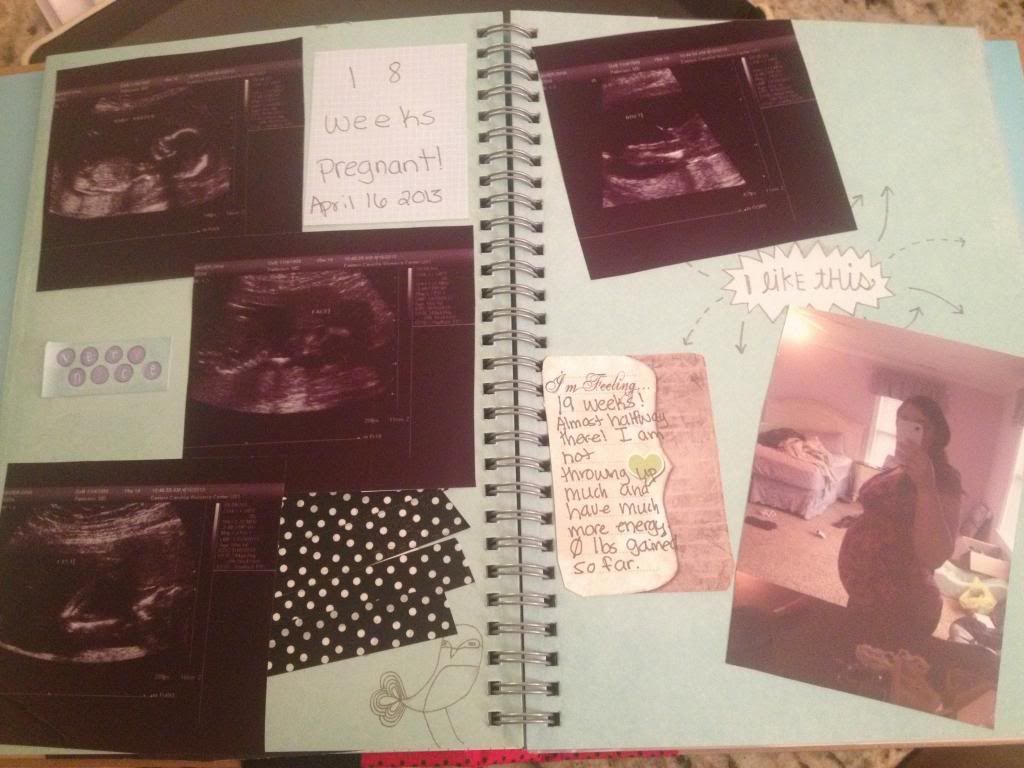 This brings me to the last page so far, 22 weeks along in my pregnancy. On the right hand side, if it looks odd, that's because in between these two pages is a clear photo insert page. I may rip that out.
The clips are Smashbook. Both papers are trimmed from the little Smashbook notepads. The pie chart graphic was part of that page, and since I didn't think I could hide it, I made the best of it.
I will obviously document belly pics and ultrasounds for the rest of my pregnancy, plus little journal card thoughts, my baby shower, hospital stay, birth, and coming home from the hospital (hopefully no NICU stay this time around). The little folder in the back of the book's cover is perfect to hold the ultrasound DVDs that I have.
I really have to say, the Xyron made this soooo easy. I didn't even buy more glue dots today, and I'm out of them. The Xyron is not the most economical choice (refills run $30+ though Michael's lets you use a 40 or 50% off one item coupon on them; mine does anyway) and I believe you get around 40' long x 9" wide but I can see how that would get used up quickly. However, making a sticker just has no comparison to trying to glue something. It's an entirely new level of crafting.
It was also nice to make something without my Cameo for once! I am so dependent on that thing sometimes.