My good friend Val has a little girl who was born right around Frankie's original due date. Vivi is the cutest thing ever and when Val asked me to make her some birthday gear I jumped at the chance to play with pink for a change!
Val had already found a picture that she liked, and using some scalloped circle shapes from the Silhouette Store we put this little design together. Val tweaked it a bit, most noticeably adding the second circle around the "3," and then asked for matching stickers. Those were really easy as long as I made sure that the only cut lines set were those of the scalloped circle and nothing inside!
Front of shirt
Val wanted a similar design on the back: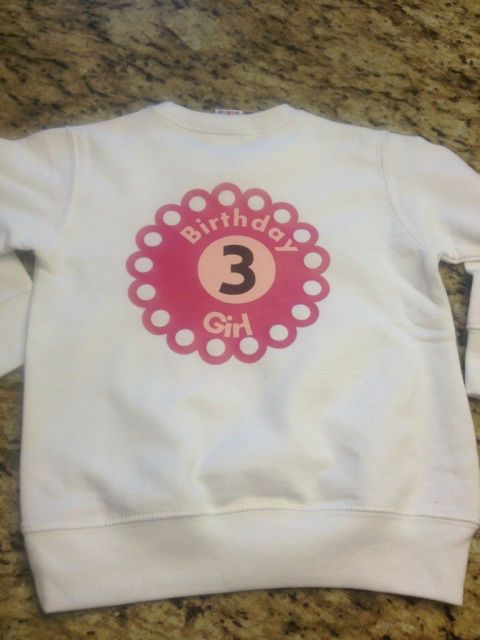 I don't know why it looks so oddly off center. Bump in the shirt maybe? I swear it's straight!:p
She also asked for matching stickers. She is going to put them on party hats- how cute is that??? And some extra for people to wear like a normal sticker. I even sent her some extra large stickers for decorating. If I had a girl I would stick them on a vase, fill the vase with candy, and some pink flowers...ok, enough dreaming of pink!
I ran into two issues during stickers, and I fixed them both, which is why I'm sharing.
First issue- sticker paper settings on the Cameo are too rough. So are vinyl settings. I did not want the blade to cut through the backing paper. I wanted a kiss cut, which is where the sticker is cut but the backing is intact, like a sheet of stickers.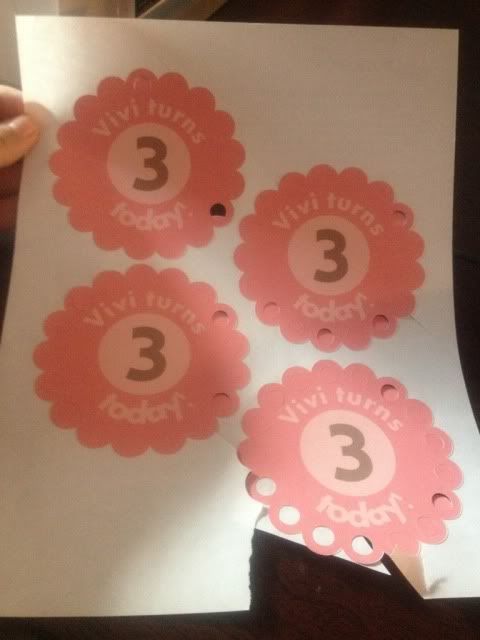 I finally fixed this problem using the settings: Blade: 1, Speed: 6, Thickness: 8.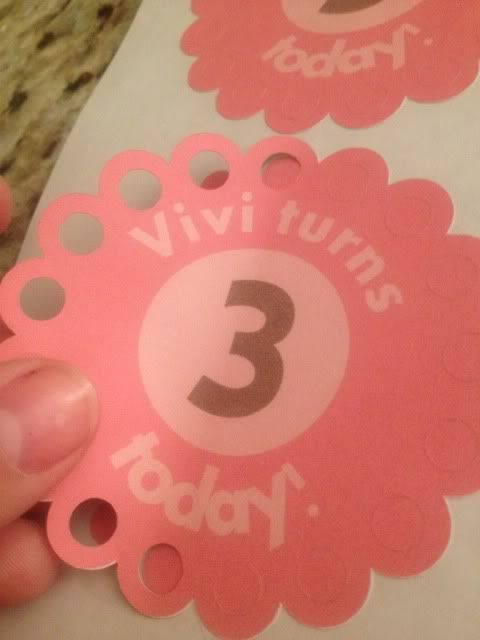 I was so happy to see that fixed, but I then realized that this sticker paper was split in two places down the back, I'm assuming to make it easier to remove stickers? Well, these stickers were getting mailed to Disney World, not used right away.
Stickers that I repositioned to be around the splits in the backing paper...
My fix was pretty simple. After printing but before cutting, I put strips of packing tape down the back.
This worked like a charm. The paper no longer split apart once I weeded the extra sticker paper from around the stickers, and as a bonus it didn't stick to the Cameo mat quite as badly. My mat is fairly new and still sticky enough that if I'm not careful, it will rip paper when I try to remove it from the surface.
I hope Vivi has a great birthday!!! I will update with pictures of the party hats and anything else that got the sticker treatment :)