Wow, I never shared this recipe??? I loooove biscuits and used to make this every week, keeping them in tupperware and re-heating in the toaster oven as needed. They are great for breakfast sandwiches, dinner rolls, snacks...did I mention I love biscuits?
Biscuits are probably the only thing at Bojangle's that I actually eat and they do a really yummy biscuit, so I convinced a friend of mine who managed one to snag me the recipe and adapted it a little to what I usually have on hand.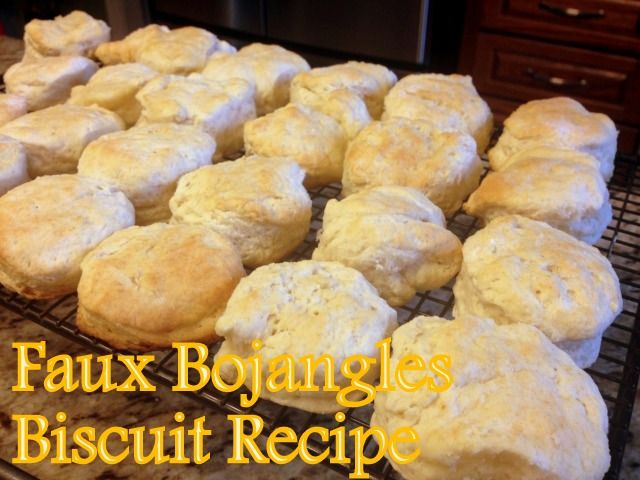 Ingredients:
3 cups self-rising flour
OR
3 cups all-purpose flour with 3 & 3/4 tsp baking power and 3/4 tsp salt mixed in
2 tsp powdered sugar
3 tsp baking powder
1/2 cup salted butter (or unsalted, if you converted all-purpose flour to substitute for self-rising; I've found otherwise it's too salty)
1 & 1/2 cup buttermilk
OR
1 & 1/2 cup milk (I use skim) and 2 tsp cream of tartar- mix and let stand for 5 min
Directions:
Pre-heat oven to 450 degrees. Mix dry ingredients, then add butter (softened is best, and I use my Kitchenaid with paddle attachment to mix it all in). Add buttermilk and mix well.
Spread flour on your counter and dump out dough. Knead until non-sticky, then roll it out to about 1/2" thickness. Use a cup or a biscuit cutter (I use a child size drinking glass) to cut out circles and place them on baking tray (I prefer stoneware- up to you! You may have to spray your tray if it's not non-stick). Keep rolling and cutting to use up all the dough. Place biscuits touching each other on tray.
Bake for 15 minutes. If you want (I do!) at about 13 minutes, carefully spread some butter over the top of the biscuits and finish baking to get that greasy golden Bojangles biscuit sheen.
When I want to re-heat them I pop them in my toaster oven for 3 minutes, but I'm sure you could easily warm them in a regular oven as well.