I've been having a little fun doing something I don't normally do, which is make cards. Normally I feel like cards are kind of a waste of paper. People rarely save them and paper = trees, ya know?
Regardless, I did want to make a few cards recently, and here are the results.
The first one was for my mother in law's birthday. This card was made with print and cut, my favorite feature of the Silhouette Cameo. The card itself is pale pink cardstock but everything else is print and cut. I filled the background shape with the pretty rose pattern, use the color matching dropper tool to pick out pinks from the roses and make a gradient of colors for the cake, and filled in the cake stand and candle parts with solid colors. Print, cut, glue, voila!
The second card I made is for our awesome, patient, and hard working Realtor. This card is actually a "Welcome to the Neighborhood" card in the Silhouette store but I just deleted the text and added "Thank you" instead (Font name-
Cheri)
.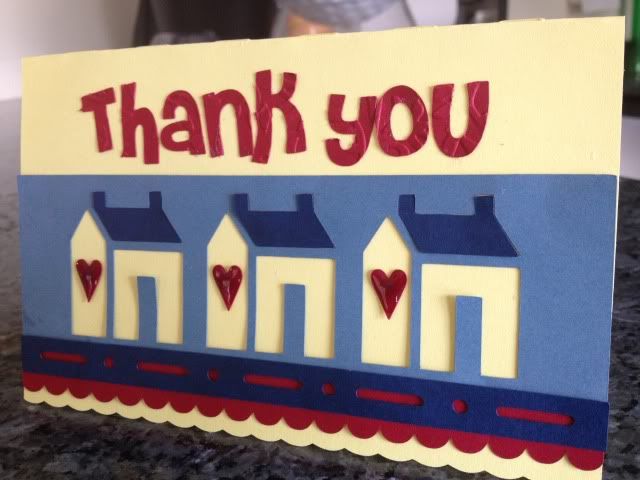 Before cutting the letters I ran the paper through my Sizzix Big Shot using a Cuttlebug embossing folder. I had to bump my blade up from 3 to 5 to cut through the cardstock after that, but I like the delicate detail it gives.
Everything on this card is colored card stock, no print and cut this time! The hearts have
Mod Podge Dimensional Magic
on them which is really fun as it dries clear but hard, smooth, shiny, and raised up.
I'm considering making our holiday cards this year instead of ordering the ever-present Shutterfly photo card, but we'll see if I have the patience for that (especially with a newborn coming soon!).