Hi, it's been awhile! The ups and downs of growing another human being will do that I guess :)
I had some fun today customizing my iPhone and it was mostly free. You could probably do it totally free, but I did spend $1.99 on a single app.
I'm sure you all know what an iPhone screen generally looks like. I have a 4S. While I did use folders to organize some things, in general:
source: techradar.com
After 1 free app and 1 paid app, voila!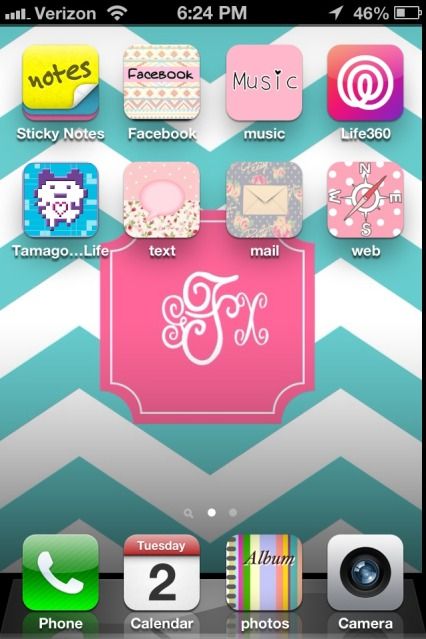 Yeah, I downloaded Tamagotchi.
ALL of the icons came from a free app called
CocoPPa
and I used
StyleFake's instructions
, which are not only really thorough but look really tedious to screenshot and repeat myself here, so go read for instructions.
In general, you open the app, find an icon you like, go to "Set up Link," and then click whatever- set up a speed dial number, a direct URL link, search for a specific app to assign, etc. Then you name it, hit OK, agree to open it in Safari, and click the button that looks like an arrow inside a box (bottom center) and then "Add to Home Screen" at which point the icon shows up on your screen and you can move it just like a normal icon.
However, unless I missed it (it's long) that blog doesn't list all of the possible shortcuts that you can do.
I did figure out a much easier way to actually change your app. But first, you can't change everything. Basically the general iPhone apps are mostly there forever. You can change the Camera icon if you use a 3rd party camera app, and I was able to change the photo album, SMS, e-mail, Safari browser, and music icons as you can see. You can easily change any 3rd party app's icon and Stylefake shows you how (basically go to an image you like, hit "set up link" and the first option is to search for the app to use- never saw Apple apps, just 3rd party). You cannot change the camera, phone dialer, calendar, etc. I tried a few different tricks and couldn't get it to work.
Another important note- this just makes shortcuts. If you delete the actual apps, nothing will work. Stick them all in a folder and hide it on page 2 or something (as I did).
Ok, on to my easy way of getting Apple apps to change their icons- after you find an icon and go to "set up link" (again, read Stylefake's photo-heavy instructions, they're great) click "URL" at the bottom like you are setting up an icon to take you directly to Google, your favorite forum, whatever. Instead of any of those URLs, use these:
Music- music://




Photos- photos-redirect://




Maps-maps://




AppStore-http://AppStore.apple.com/




Safari-http://google.com (or any other link that you like, I actually use msn's home page)


E-Mail: mailto:


ITunes-http://itunes.apple.com/
It'
s really pretty easy and fast and looks cute. On the negative side, notifications don't pop up on these icons, you will see a white blank page and then it will go to the actual app (less than a second in my experience), and using this shortcut to access the Apple e-mail app results in it bringing up the new message window, which you have to close to actually see your inbox. Nothing takes more than a second, but you might find it feels tedious to use.
The other app I downloaded is for the monogrammed wallpaper. It's called
Wall About You
and is $1.99. It is a very no frills custom monogram wallpaper maker. You could easily make your own wallpaper and e-mail yourself the image, then save it on your phone and set it, but I was in the car and just wanted something fast.
I am by no means an expert on this app. I just thought it was fun, it was easy to use after I did it once or twice, and it looks cute. The ONLY URL directs I know of for changing Apple apps I have listed, I don't think it works on a 3GS or lower iPhone, and please don't blame me if you somehow totally brick your phone. Other than that, have fun with it :)