First off I apologize for the silence lately. In 2008 I received my Bachelors degree, got married a week later, and haven't really worked since. I decided to go back to school for a different degree and started earlier this week. I love school but I forgot how much homework is involved! In fact, I have 2 more case briefs to read for this week, so I have to make this quick.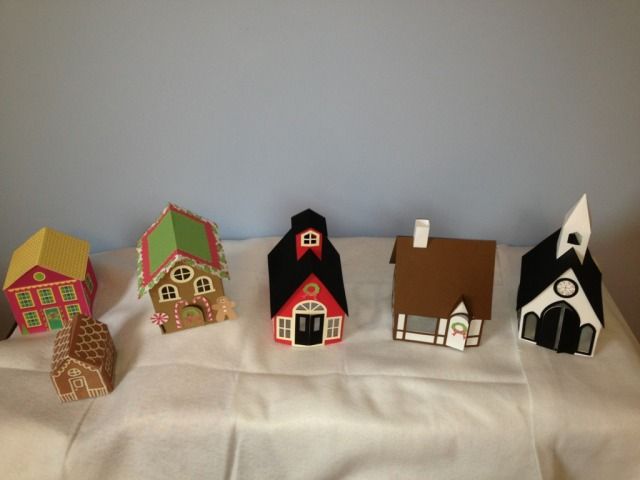 This took me 3 days since that pesky school work kept getting in the way. I bet it would have taken me even longer had I not be introduced to the wonder that is glue dots. I wish I had tried them sooner!
I believe these three are all different designers. The pinkish house is a simple print and cut, as is the small gingerbread house (although the cut/fold lines of that house are a little off...). The large gingerbread house was cut from card stock but the details were done with print & cut.
If you didn't print the holiday details and printed the roof out of something (anything) else this could easily work as just a simple little house, not a gingerbread house!
These three are all from the same designer and I wish they would release more! I added the wreaths for a holiday touch. The window frames, brown detailing on the cottage, etc, are all card stock are the walls & roofs.
The church's white & black parts are card stock and then I used a holiday pattern and print & cut to give the illusion that it was a holiday stained glass within the window frames.
Normally 3D projects drive me nuts, but I really think the glue dots made a BIG difference. Huge. I'll never go back. I can't wait for more 3D houses to be released in the Silhouette Store!